Alphacool ES Pro 3U - 2 x 120 ST / 2x XPX Pro 1U / Reservoir 2U - DDC310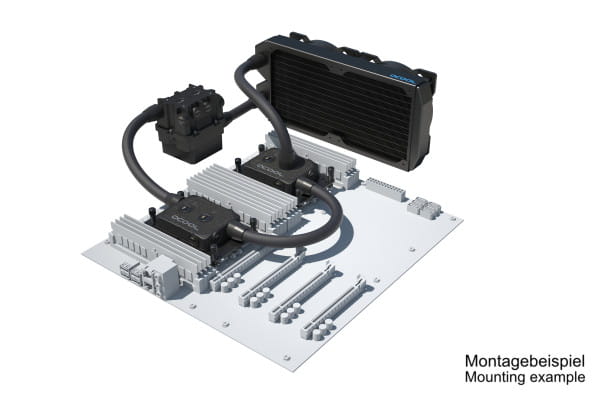 Article no.:

11893

EAN:

4250197118934

Weight:

4 kg

Images may differ slightly from the original
Prices incl. VAT plus shipping costs
To receive an offer, please fill out the request form. The more information we receive from you in advance, the faster we can respond to your request.
Request form
Important: Since server rack configurations can differ so much in terms of size and component...
more
Product information
Important:
Since server rack configurations can differ so much in terms of size and component positioning, all sets are individually adapted to ensure the tubing fits perfectly. Please use our contact form, where you can provide further information about your system and enter any special requests. Further information such as pictures and data sheets are also welcome and can be uploaded to us using the form.

Click here to contact us now! (the link leads you to the configurator & contact form of the manufacturer)

This set can discharge up to 900 W at an ambient temperature of 30°C and fans with 4000 rpm.

Radiator
The core of any water cooling system is the radiator that dissipates the heat. Alphacool uses solid copper radiators for the Enterprise Solution Sets. These offer almost twice the heat capacity of aluminium radiators. This means that a significantly better cooling performance is achieved and it is able to remove excess heat away from the crammed components in server racks and workstations.

Reservoir
All reservoirs have an integrated pump top and are specially adapted to the respective height unit (1U, 2U, 3U, 4U) of the server racks. In addition, all reservoirs offer versatile connection options. This ensures that the the construction in the server can be varied and adapted to your own wishes.

Tubing and Fittings
Alphacool dispenses with the usual PVC hoses and relies on TPV hoses. These can withstand higher temperatures which are perfect for its Enterprise solutions. The TPV hoses are much more kink resistant than PVC hoses, which means that kink protection springs are largely unnecessary. The special fittings for the TPV hoses have a locking ring. This makes the tensile strength much higher than with the usual connections in the water cooling industry. This means they are far more safe compared to standard water cooling components.

Pumps
Only products that have proven their longevity are used for the pumps. The DC-LT 3600 industrial pump and the DDC310 pump are fully developed products that have been on the market for many years.

Prefilled
The Enterprise Solution Sets are always delivered prefilled. This means that you only have to install the system in your server rack. The set therefore does not need to be assembled or filled yourself.

The set consists of:
CPU cooler: 2 x Eisblock XPX Pro 1U
Reservoir: ES Reservoir 2U - DDC
Radiator: NexXxoS ST30 Full Copper 240mm Radiator
Pump: DDC310

Technical data sheet for DDC310 pump: Please click here!


Intel: 2011 / 2011-3 / 2066 / 3647 / 4189 / 1700
AMD: TR4 / TR5 / TRX40 / sWRX8 / SP3 / SP6 / AM4 / AM5